| | | |
| --- | --- | --- |
| " | In order to remove photos from UnusedFiles, you must first add photos. | " |
| | ~ Wiki Philosophy | |
06/27/2020: Taking a 'break' from this wiki and working on the CocoPPa Dolls Wiki. Might take an actual break until the second week of July but I should be around to post new gachas before they leave in two months.
Introduction
Hi, I'm яανєη and I am one of the administrator for the CocoPPa Play Wiki.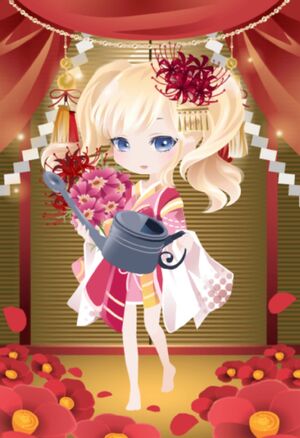 CocoPPa Play Life
I was introduced to CocoPPa Play by a friend and started playing the game on 7th of August 2016 during Marine Memories.
Since then, I have been seriously hooked to the game (probably because of the cute outfits CCP has to offer) and I continue to be an daily player.
I'm not so much of an event-person anymore.
I enjoy Catching, Delivery, Snap Contest and Top Brand events. Not so much Club Event because of the long loading times and the amount of "This Model is MAX Style" I get. I'm usually around 5,000 ~ 10,000 rank but when I play a little bit more seriously I can get around 900 ~ 2500.
Wiki Life
On the wiki I mainly post Gachas, Promotions, FASHION LABO and the last event of the month (Snap Contest or Top Brand). I occasionally do the Features (e.g. item pages, town, NPCs) but I don't particularly like them.
I started posting on the wiki a little after I joined the game where my very first page was Phantom Building Sorcerers. When I started working on the wiki, the wiki was not active (and had not been active for half a year) and I had no no prior experience in relation to FANDOM or wiki editing.
It was quite difficult time.
My original motivation was to simply "make myself more useful to the community" because I was a depress expresso but over time I have learnt to be more positive about myself. My motivation for working on the wiki is to create a collection of references and inspiration from gachas and events for people to look back on.
Right now I decided to take the steps to be a proper admin. I am attempting to make a place where contributions are less overwhelming (e.g. posting 50+ images on a page for a gacha...) and easier to make... Trying to follow that wiki guide which I never read.
I guess that's why I am writing a proper introduction because "People don't like anonymity".
I may have a serious addiction to the wiki. As of 10/15/2019, it's scary to know that I have contributed 3/4 of all edits on the wiki. But I am VERY thankful for the 1/4 of people who contribute to the wiki - whether it is big or small. It means a lot that people share the same interest and I will work hard to create a wiki community (hopefully).
I'll definitely be cutting down my wiki time once we hit 2020, I would like to focus on building my life.
Please consider helping the Wiki out! I will forever appreciate you!
Additional Information
Outside my wiki life, I enjoy drawing a lot too.
This wiki has been a huge influence to what I draw; Going through that typical anime-drawing phase, cute outfits with a lot of detail and LOTS of girls. I do a lot of CCP fanart. I'm definitely working on those technical skills so hopefully within 8.5 more years of drawing I can become a professional (as a 10-year drawing challenge/goal).
I'm not good at socialising to people, both online and offline, so forgive me if I sound rude or out of place. I'm trying ( T - T )
Also I don't use the American English (which CCP uses), so doing MM/DD/YYYY instead of DD/MM/YYYY and spelling words differently (e.g. grey and gray, colour and color) has been really confusing for me.
Community content is available under
CC-BY-SA
unless otherwise noted.