"One thing I learned in life. Multi tasking is much harder than I thought."
My Intro
I'm a longtime CocoPPa Player since early and mid 2016, I mostly grind my time in events and dressing up for Shows. I am now one of the members of Dark Super Bunnies. I live as a free player, so I can't afford to get good ranks above 500+ in events.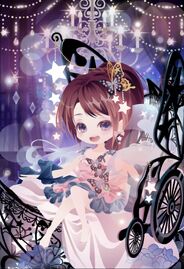 CocoPPa Play
First Joined: March 27th, 2016.
The first time I remembered joining CCP, I was beginning to be a big fan of Selfy (the chibi base). And played Dream Selfy online all day to make chibis for fun. My very first event was play LOVE LOVE SODA in April 2016. Events were difficult to play, but soon I participated more and got the hang of it. The first time I won a few items were on Glitter Planet in May 2016 all the way to Tropical Paradise July 2016.
But July 5th, I updated my app after I accidentally deleting it off my tablet and ended up losing my progress. So I made a new account and had gotten better luck than before.
Last Joined: July 5th. 2016. After I made my new account, I went back to square one and just get as much items as possible. It was easier to play gacha when the premium tickets were first made and had gotten better and better at events. I started joining clubs left to right and enjoyed playing events and had a great time earning the rewards.
Ever since I joined CocoPPa Play Wiki, I mainly focus on posting events (from old to recent) or posting photos on Monthly Grades in occasions. So I may be too busy to talk much as I'm both posting and participating in events at the same time. Thanks for reading! owo/
Favorite Events
Other Stuff
I will also play Love Nikki and draw some artworks most of the time if I had all the work done! I can give you some helpful tips on coding articles, since I remember some techniques from computer classes that I learned in high school. Not good at any serious types of computer coding though, just the type of coding to make the article look more neat and tidy. uwu
I'm mostly active in the Unofficial CocoPPa Play Discord Server so you'll meet some familiar people there!
CocoPPa Play Discord: --> https://discord.gg/egyJ4F4
Community content is available under
CC-BY-SA
unless otherwise noted.