Welcome to the CocoPPa Play Wiki
The CocoPPa Play Wiki is an archive of past Events, Gachas and more. It is made for fans and by fans. Currently, it is still a work in progress so feel free to create or edit pages that follow the community guidelines.
As of November 18, 2019 (Monday), there has been 106,726 edits and 1,144 articles with 9 active users! Click here to see the latest activities on the wiki!
Want to contribute but don't know how? Check out the Tutorial section or contact an Administrator. You can also visit any of the following categories that still need to be worked on:
Task Board, Work in Progress, Missing Information, Missing Image and UnusedFiles.
About CocoPPa Play
"From the globally popular smartphone community app, 'CocoPPa', comes a special lovely app, "CocoPPa Play". Now create and decorate your avatar with cute outfits! Create fashion shows for people all over the world!♬"
CocoPPa Play is a free-to-play dress-up game where you can create fashion to show people around the world by creating models and customizing your show! You can also connect to CocoPPa, get stunning outfits, try Quests and be a member a CocoPPa Model Club for chatting and events! This game was created by United Inc. and GCrest Inc.
Feature Article
Gacha Information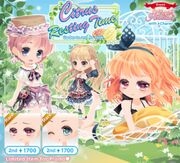 Citrus resting time was a Premium Gacha available from 05/14/2018 to 07/14/2018 and Remixed from 05/11/2019
Click here to view more.
Events
Promotions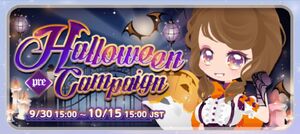 Announcments
The CocoPPa Play Wiki is created by fans and for fans, meaning that we are NOT CocoPPa Play. Please do not ask for future features or cheats.
Don't forget to help the CocoPPa Play Wiki to grow by posting, editing or cleaning pages!
You can go to the Task Board to find out what needs to be done or ask Zodiacat.
Poll
What's your favorite event?
Community content is available under
CC-BY-SA
unless otherwise noted.